Who would have thought "ants on a log" would start my life journey to the powerful healing of celery juice. In 2009 I started to develop psoriasis on parts of my body. By 2011 it got so bad that I could barely touch my skin. It was raw, bleeding, and would peel off in sheets. Anything I ate, drank, sometimes even smelled, or touched would make my skin bright red and inflamed.
Over the years I've tried everything from steroids, ointments, natural supplements, light therapy, naturopath dr's, elimination diet, allergy testing, and so on.
Scrolling instagram one day, I saw the account @medicalmedium pop up on my feed. I'd heard about this new "fad" for bloating, but until seeing Medical Medium's posts about celery juice benefits for chronic inflammation, it finally peeked my interest.
While on this scroll frenzy I said "I need to try this" as my current 4 month journey with my naturopath doctor was only draining my bank account, and not bringing much change.
I ordered Anthony Williams book Celery Juice: The Most Powerful Medicine Of Our Time Healing Millions Worldwide and as dramatic as it may sound…my life changed. I couldn't put the book down. Everything I'd read/studied over the past 10 years was brought together in one book, with one food that I let turn brown in my fridge for years prior.
So what is it with celery that is so life changing?
I'll share 7 Health Benefits of Celery Juice from Medical Medium and how they've made a difference for me personally….
1. Neutralizes & Flushes Toxins Out of the Liver
Celery juice's sodium cluster salts bind onto neurotoxins, dermatoxins, & other viral waste, as well as troublemakers, & draw them out of the liver.
This was huge for me because my body doesn't flush toxins like "normal". Growing up I was sick all the time and [back then] my parents just gave more medicine to "heal" the sickness. In reality, the medications were just breaking down my gut, and my body's been fighting ever since to try and flush out the toxic sludge.
The first week I started celery juicing I didn't feel like much was happening, but in the book he shares around week 2–you should see/feel your body flush like never before. He was very right, ha!
2. Helps Restore Adrenals
The undiscovered sodium cluster salts in celery juice help keep your adrenals stable & functioning.
I've struggled with adrenal fatigue for years, but since drinking celery juice I'm waking up early (some days a short nap is needed as adrenals take a long time to heal depending on the severity), being active with my kids, hiking, & jumping on the trampoline.
It's a feeling I'll never take for granted again. Being healthy is a gift!
3. Celery Juice Fights Autoimmune Disease
Pathogens are the true cause of the inflammation that's mistakenly considered autoimmune.
Celery juice's undiscovered sodium cluster salts can break down & flush out these pathogens.
Psoriasis is an autoimmune disease that Dr's say will "never be cured." We have a friend that's a medical doctor who told me–"you're going to have to turn to western medicine if you want your psoriasis to go away".
It wasn't sitting well with me because that shouldn't be the case. I'm stubborn so when I put my mind to something I feel strongly about, I'm not going to quit until I conquer it.
The first 3 months I was juicing every single day. Medical Medium suggests drinking 16oz of water with lemon at room temperature right when you wake up in the morning. Wait 15-20 minutes and then drink your 16oz of fresh celery juice. Don't add anything to it–just STRAIGHT celery juice.
Medical Medium also shares that because the sodium cluster salts are breaking down the sludge that's been in your body for years, you may see some funky things in your bowel movements!
Today I juice 3-5 times a week on average and although I'm speed walking to the bathroom 15-20 minutes after at times, it's so worth it. The amount of healing my body has had is remarkable and I haven't taken any other supplements since I switched 100% to celery juice.
4. Celery Juice Kills Epstein-Barr & Shingles Virus
White blood cells of the livers personalized immune system add the cluster salts to their cell membrane coatings, making them toxic to viruses.
From pg. 36-37 in Celery Juice by Anthony William:
Eczema & psoriasis are caused by a low-grade infection of a herpetic virus inside the liver. Most commonly, that virus is Epstein-Barr Virus or EBV.
When the virus feeds off toxic copper and mercury in the liver and excretes them, that copper turns to a dermatoxin. These dermatoxins build up and exit the liver, eventually finding their way to the lower levels of the dermis. Once there, the body tries to detox them by pushing the dermatoxins through the skin.
This can lead to almost 100 varieties of rashes that are deemed to be eczema or psoriasis- or are given different names. In none of these cases is the immune system attacking the skin. That's an inaccurate explanation that comes out of misunderstanding how eczema and psoriasis really work.
Because celery juice feeds the skin, people who drink it experience amazing skin benefits. This includes watching eczema and psoriasis disappear over time, which is what's happening with my skin.
Medical Medium also shares that "people with more advanced, aggressive cases of eczema and psoriasis usually have a higher toxic heavy metal and viral load inside the liver."
This makes sense for my situation considering I've been working with toxins in paint/stains since 2009.
5. Celery Juice Helps Eradicate Strep Bacteria
Strep is responsible for many conditions like acne, UTI's, SIBO, yeast infections, & more. Celery juice helps destroy strep.
From pg. 76-82 in Celery Juice by Anthony William: Strep-related conditions
Most people think of strep throat as being the Streptococcus bacteria, but that's not all that strep causes. Strep is a type of bacteria that built up its platform and strength due to overuse of antibiotics. There are many different strains, groups, and mutations of strep that medical research and science can't keep up with.
Strep throat is just one indication of strep and if you're someone who took antibiotics early in life for a cough, flu, or childhood ear infection (like me), that could have set the stage for future episodes of strep-related illnesses.
Unfortunately, however, if you didn't take antibiotics growing up, you're still susceptible to strep. Antibiotics are in our food, water supply, and passed on through generations in our family bloodlines. The result? Everyone has one or more varieties of strep in their system.
Celery juice is the ultimate strep fighter due to the sodium cluster salts. They help destroy strep on contact throughout the body, which is why its so powerful!
Healing from strep helps heal other conditions. Additional strep related illnesses include: sinusitis (me), more strep throat, UTI, yeast infection, SIBO (me), acne, ear infections, etc.
I loved reading this chapter in the book "Celery Juice" and have learned so much about Strep & EBV conditions.
6. Celery Juice Contains Undiscovered Sodium Cluster Salts that Reverse Illness
Celery juice's undiscovered sodium cluster salts act together as an antiseptic. When they make contact with viruses & bacteria, (troublemakers responsible for chronic illness) the salts begin to break down the pathogens' cell membranes, eventually destroying them.
From page 13-15 in Celery Juice by Anthony William: Sodium Cluster Salts
Did you know celery juice actually removes crystallized toxic salts that have been in your organs for years? I'll briefly share some of my top takeaways from this section & why it's so important to read…
Sodium cluster salts are an entirely different make and model of sodium. It serves as a critical component of neurotransmitters. It's what makes celery juice the most powerful electrolyte beverage on the planet. Nothing can surpass or even equal it.
Heavy metals are destructive and have an active charge to them that causes the metals to be damaging to liver cells, brain cells, and other cells throughout the body.
Toxic heavy metals are a particular type of toxin that celery juice's sodium cluster salts take on. I believe this is why I've had so much healing with my psoriasis.
This is where the powerful healing of chronic illness comes in with celery juice. This powerful HERB is a true gift to your health & well-being.
7. Powerful Weapon Against SIBO & Bloating
Celery juice is a powerful stomach acid replenisher so that gastric juices can kill strep, which causes SIBO. It also breaks down rotting protein & rancid fats in the stomach & small intestinal tract, helping bloating.
I've had stomach issues for most my life and since starting celery juice, everything in the bowel movement area has improved. Like–a lot!

Touching back on strep–it has a major effect on SIBO & bloating as the bacterial overgrowth is always strep. While most doctors want to treat with antibiotics, they can help for a short time, but strep then becomes immune to the antibiotics and grows stronger.
Celery juice is an excellent remedy for stomach issues because when you consume it, it directly enters the digestive tract, slowly traveling through the small intestinal tract and annihilating strep cells there.
While SIBO usually involves cramping and bloating, know that this comes from strep bacteria moving around the intestinal tract, creating little pockets of gas that can become uncomfortable. Celery juice addresses this by wiping out strep in the gut and assisting with digestion thanks to its digestive enzymes.
Be sure to read "Celery Juice by Anthony William" if you're interested in learning about other illnesses. He goes through so many of them in his book.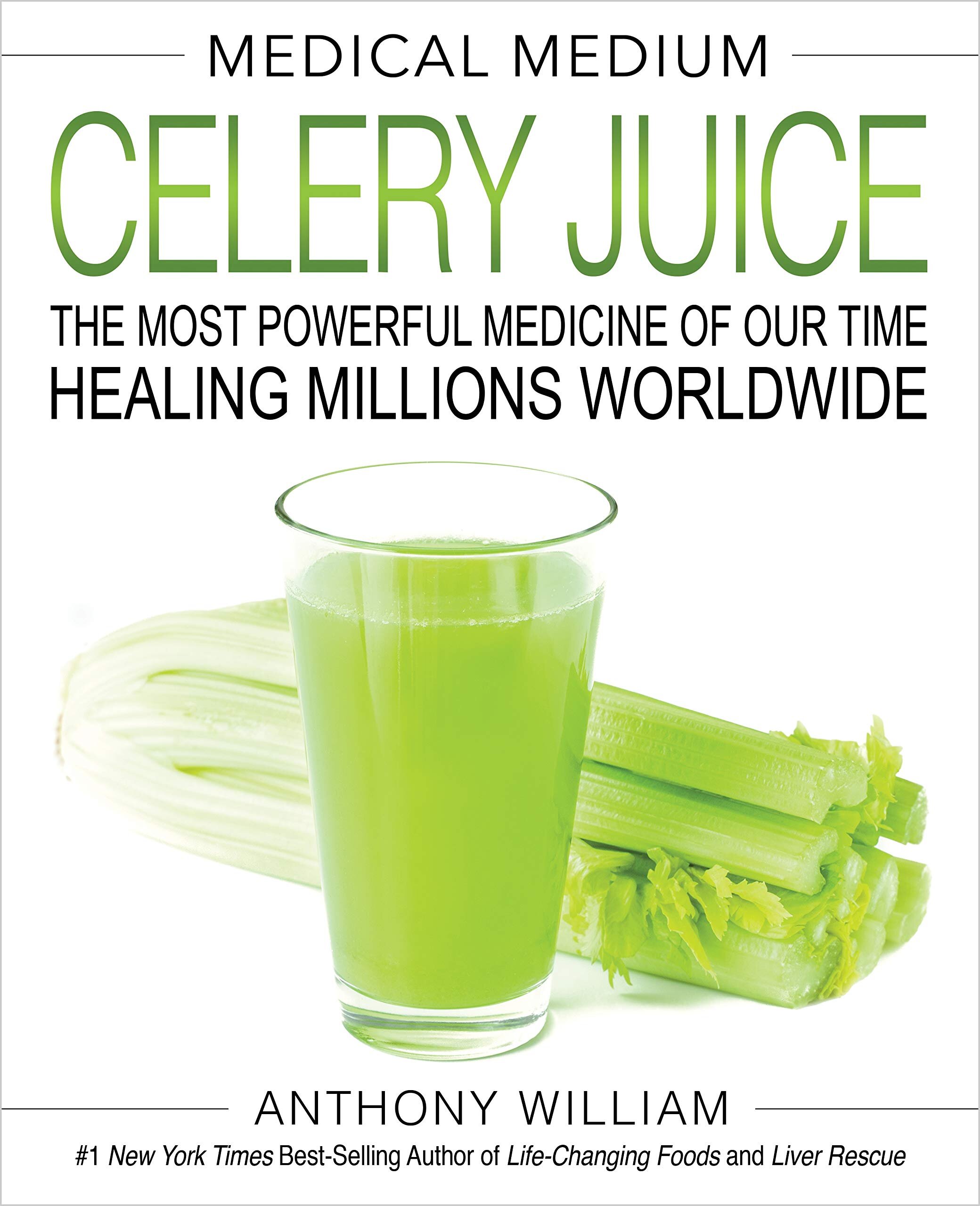 As you can see….
Celery juice has many amazing benefits and I'm excited to not only share some of them with you, but to hopefully help you on your healing journey as well. My skin, stomach, and chronic inflammation continues to improve every single day and I feel better after just a few months of drinking celery juice than I have in years.
If you're interested in other healthy food options & recipes, read my blog post on the Healthy Snacks My Kids Devour here !
Here's a list of all the products that I use to make the celery juicing process easier: